A Rosh Hashanah Message to My Jewish National Fund-USA Family

Rosh Hashanah, the Jewish New Year. No matter where we live in the world, this annual tradition is felt deep within our souls.
A time for reflection, revival, and new beginnings, Rosh Hashanah is when we reunite with loved ones near and far and reaffirm our bonds with our families, communities, and brothers and sisters in Israel. It is when we connect, reflect, and rededicate ourselves.
Maybe that is why some refer to Jewish National Fund-USA as Jewish National Family. We're not just a fund—we're one family bound together through history, ancestry, and love for the land and people of Israel.
This Rosh Hashanah and High Holy Day season, I am looking at the boundless new beginnings that lie ahead, as we—and the world—emerge from a difficult period, and I would like to share several stories that have touched me. Because of your commitment, Jewish National Fund-USA did not wait for a vaccine to bring the world back. Our work has gone forward every day for over 120 years, sometimes through difficult and trying periods, and just like in the past, we could not afford to wait it out. Because of your support, we did not have to.
As I reflect on the past year, I recall the sadness I felt as I heard many stories about businesses shuttering or hardworking people losing their income due to the unforeseen and terrible global pandemic. Despite the devastating economic impact across all sectors of Israel's economy, Jewish National Fund-USA was there with our sleeves rolled up to help support the land and people of Israel by keeping the community connected through a suite of live and On-Demand(jnf.org/ondemand) interactive Zoom events, "trips" to Israel with over 500 Virtual Tours that have brought over 9,700 people home to our beloved Israel from the comfort of their living rooms(jnf.org/virtualtours), and launching our Online Mitzvah Marketplace: Shop Israeli Goods (jnf.org/shopping)to help support Israeli artisans, food makers, and small family businesses by purchasing Israeli products sent right to your doorstep.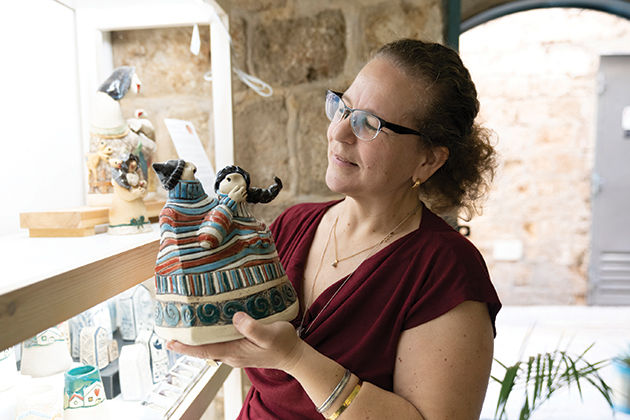 Online Mitzvah Marketplace artist Edna Piorko with handmade sculpture
That's what family does. We support each other in every way possible, and the people of Israel are our family, and the land of Israel is our home.
In Israel, the acute economic impact of global events was felt instantaneously as the country went into a lockdown. In one day, over a million Israelis were without jobs, and tourism, Israel's economic powerhouse, was gone!
I remember receiving a call from my good friend, Michal Shiloah Galnoor, the morning after Israel shut its doors. Michal and her family moved from Tel Aviv to the green hills of the Western Galilee a decade ago, and today she is the CEO of Western Galilee Now, a consortium of small, local businesses, and operates Jewish National Fund-USA's Western Galilee Tourist Information Center in the Old City of Akko. After listening to how dire the economic situation was becoming for businesses that typically rely on foot traffic and tourist dollars for income, Jewish National Fund-USA launched the Online Mitzvah Marketplace: Shop Israeli Goods (jnf.org/shopping) so you, our partners(donors), could help support Israeli artisans, food makers, and small family businesses from the Galilee and Negev by purchasing Israeli products that ship right to your doorstep. Over 50% of the Israeli workforce is made up of small and medium-sized businesses, and their survival, success, and growth, particularly in the Galilee and Negev, are key to ensuring Israel's frontier communities continue to develop and thrive. Together, we continued to support our brothers and sisters in their time of need, just as we always have and always will.
Jewish National Fund-USA's Western Galilee Tourist Information Center
Akko, in Israel's north, is a remarkable city steeped in ancient history and a symbol of coexistence, with true friendship between Jews and Arabs. After a year of lockdowns and a successful nationwide vaccination campaign, Akko—like the rest of the country—awoke and was once again offering tourists the many tastes, colors, and smiles the Western Galilee offers.
When hostilities broke out in May between Israel and Hamas terrorists in Gaza, nobody expect edit to spill over into Israel's peaceful streets. Naturally, I called Michal to learn about the evolving situation in Akko. She said: "Sol, my co-worker Dawlat Hativ lives in the Old City and heard that the JNF-USA Tourist Center was attacked." Some hours later it was confirmed: Rioters had ransacked and significantly damaged the Center.
Within hours, Jewish National Fund-USA lay leaders were on the phone promising support to rebuild the Center. Michal spoke from the heart and said, "Destruction is swift, and rebuilding is hard, but I truly believe the people of Akko – Jews and Arabs – want peace and prosperity. We know that Jewish National Fund-USA will help us become bigger, better, and stronger than ever and together we will rebuild our Tourist Information Center. This is the start of a new beginning for a brighter future for Akko, the Galilee, and Israel."
New beginnings can take root in the most unlikely places, like a once barren patch of desert sand.
Over 15 years ago, Israel made the bold decision to unilaterally disengage from Gaza with the hope and dream that peace would soon follow. While that has sadly not been the case, prosperity and new beginnings have come to a group of 30 former Gush Katif families who pursued their Zionist vision of becoming pioneers in the land of Israel, establishing their homes in Halutza.
"We know that Jewish National Fund-USA will help us become bigger, better, and stronger than ever."
Today, Halutza is a thriving Jewish National Fund-USA-supported agricultural-ecological enterprise with over 2,500 residents. When I think of how far we've come, I'm reminded of Israel's first prime minister, David Ben-Gurion, and his words on pioneering Israel's desert: "It is in the Negev that the creativity and pioneer vigor of Israel shall be tested."
Perseverance, ingenuity, and creativity are part of Israel's DNA, and it is certainly embodied in Halutza resident and dairy farmer Benzi Hochstein's soul. I met Benzi on my last visit to Halutza and immediately sensed his love for his community and desire to see it prosper.
Dairy Farm in the Negev
Benzi's dream of growing the Negev with quality jobs in dairy farming dovetailed with a story my good friend Charlene Vener told me about her father. Charlene had a photo on her credenza of her father visiting a dairy farm during his service in World War II. Charlene had been searching for the right project to honor the memory of her father, a hardworking entrepreneur who provided countless jobs to many throughout his career, and I told her about Benzi.
At Jewish National Fund-USA, we turn dreams and commitments into reality, and thanks to Charlene Vener's generous gift, Jewish National Fund-USA is constructing a state-of-the-art communal dairy farm that will serve as an economic engine for Halutza and create thousands of new jobs in the region. When I asked Charlene why she decided to invest in Halutza, her answer was direct and straight from the heart: "I want to help create job opportunities and enhance the growth of Halutza's communities. This is how we help the Negev bloom." Thank you, Charlene, for your partnership and for giving the people of Halutza a new beginning.
Our investment in the future of our people goes all the way back to 1901, when a young Austrian journalist named Theodor Herzl called for a national fund to reestablish a national home for the Jewish people in our ancestral homeland. We are continuing that mission and investment in Israel's future today.
When a young Herzl dreamed of a place of refuge for the Jewish people, an oasis of hope, it's doubtful he imagined a Jewish state with thriving communities in the Arava desert. Yet, thanks to savvy and smart investments by Jewish National Fund-USA and you, the Arava is growing and quality of life continues to improve with the construction of the new Arava Aquatic Sports Center, a medical clinic, schools, and a rescue center.
Arava Aquatic Sports Center
The new Arava Aquatic Sports Center is a shining example of a new beginning in the desert. This 100% power independent, green energy facility has impressive natural filtration and are newable solar energy system. The massive swimming pool will also serve as a local and global destination for training and competitions, placing the Arava on the athletics map.
As we usher in the New Year and the beginning of a new school year in the U.S., I reflect on the impact the global pandemic has had on our children and grandchildren's education. Lessons and lectures migrated to the virtual arena and study abroad programming in Israel came to a halt. Resuming study abroad programming in a safe and secure way is a priority for Jewish National Fund-USA because we believe that it is our youth and the next generation who are critical in keeping Israel and the Jewish people secure and enduring.
Today there are over 30,000 Jewish National Fund-USA Alexander Muss High School in Israel alumni and thousands more high school and college students across the U.S. having life-changing experiences in Israel. Through JNF-USA's Frontier Israel, Dream Israel, Birthright, and Alternative Break, you can seethe power and impact Israel education, Zionist advocacy, and engagement programming is making on the next generation. You are making this possible because you believe in our future like we do.
Studies show that students who form a bond with the land of Israel at a younger age are more likely to remain Zionists as they enter adulthood; yet, sadly, over the last several years the number of Jewish teens who spend extended time abroad in Israel has sharply decreased, by up to 70%. Jewish National Fund-USA invests over 25% of its funds in Zionist education, future advocacy, and engagement to support the next generation and encourage them on their path toward leadership.
When a student from a public high school returns from our High School in Israel with pride in their heritage, culture, and history, that's a win for our future and the future of the Jewish people.
"I landed in Israel for the first time in my life and fulfilled my longing to be in the Jewish homeland, "said Maya Pollack of Rockville, MD after completing her Spring Semester in Israel. "I had my first Israeli shawarma, I put my first note in the Western Wall, and climbed up Masada for the first time. Walking the streets of Jerusalem and visiting the markets allowed me to completely immerse myself in the culture, foods, and liveliness of this country and opened my eyes to all it has to offer. One thing I know for sure is that this will not be my last time in Israel."
This is your philanthropic investment with Jewish National Fund-USA at work, and we're just getting started.
I want to conclude by sharing something I'm very proud of. Earlier this year, Jewish National Fund-USA again received an overall 4-star rating from Charity Navigator, the highest rating achievable, for the ninth consecutive time. Only 4% of charities evaluated have received consecutive 4-star evaluations, indicating that Jewish National Fund-USA outperforms most other charities in the U.S.
At Jewish National Fund-USA, we are an independent, donor driven charitable organization backed by good governance, donor involvement, and an independent Board of Directors. You, our partners and our family give to Jewish National Fund-USA precisely because of our transparency, lay leadership involvement, corporate integrity, and the fact that our vision and focus has remained on people and meeting project needs, not politics. We support bomb shelters in the Gaza Envelope to protect our brothers and sisters along the border, we are rebuilding spaces of coexistence bigger and stronger in the Galilee to prove that love and respect triumph over hate, we are embarking on agricultural and recreational endeavors in the Negev and Arava that will spark the creation of thousands of new jobs and bring prosperity, and we are educating our children and grandchildren about what it means to be Jewish and Zionist and creating the leaders of tomorrow.
Together, we are creating new beginnings every day. On behalf of my family and Jewish National Fund-USA's lay leaders and professionals, I want to wish you and your family a Shana Tova u'Metuka—a happy and sweet New Year!
Sincerely yours,
Dr. Sol Lizerbram
President
Jewish National Fund-USA
read more
close